6 ways agents can use technology to build client relationships and grow their business
By Andrew Conner
As technology becomes more ingrained in our daily lives, people expect more from their interactions with businesses. Instant feedback, same-day delivery and immediate responses from apps and websites set high consumer expectations. And real estate agents are certainly not immune to this trend.
However, while clients may be expecting more from their agent than they did 10 years ago, there is a silver lining to the tech boom. The same tools that are setting these higher expectations, such as social media, texting, websites and email, can now be used to enhance your relationships with clients and, ultimately, bring you more business. Here are six ways CRSs are using technology to build relationships and strengthen their businesses.
1. Leverage Digital Resources
Job Hammond, CRS, designated supervisor at Dash Realty in Austin, Texas, came to real estate after working for 20 years as a sales executive for a CRM company, so making tech work for him is an important part of his business. Working in Austin, he sees 150 new people moving to the area every day, which makes for about 50,000 new potential clients every year. One way he takes advantage of this is using social media to create awareness of his services.
Hammond uses Facebook events as a way to engage with potential clients and advertise his open houses. He'll then boost his event post to a targeted location. A recent open house event he put up received 20,000 impressions, which led to 25 visitors who otherwise may not have attended. "I use Google Ads to target specific ZIP codes, primarily for relocating clients," says Hammond.
"I also wrote a whitepaper that I share about relocating to Austin. I moved from California to Austin, so I know how difficult it is, so I'll send my whitepaper and ask if they want to talk about moving and finding the right neighborhood, employment, friends, etc."
2. A Good Website Means Good Business
An informative and user-friendly website is another way Hammond makes it easy for people interested in Austin real estate to find him. He uses IDX integration so people can find listings on his site, and this connects to his CRM, which can tell him if particular listings are getting more views than others. This type of attention to detail when it comes to technology doesn't stop when he begins building relationships with clients.
"I drive an electric car with a huge touchscreen map on it, so when we're driving in different neighborhoods, clients can see how close a property is to other locations," he says. "I'll even ask clients to estimate their commute time to work by using Google Maps with traffic integration for the time of day they commute."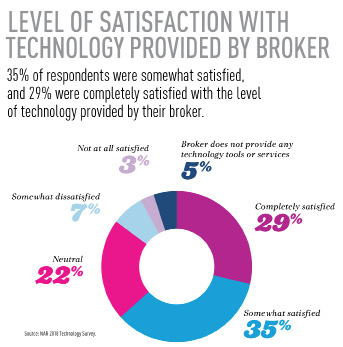 3. Connect With Your Community
Joining Facebook groups and checking in at local places of interest are great ways to show your involvement in the community, says Mary Jane Dunlop, RRC member and broker/owner at Berkshire Access Realty in Pittsfield, Massachusetts. For example, Dunlop is a regular blood donor and every time she donates, she takes a selfie and uses a real estate-related hashtag.
"I'm also involved in a Facebook group of people from a local neighborhood that has been a depressed area that we're trying to improve," she says. "I've done free seminars for first-time buyers in that group, and because of that I've been recognized by some other interrelated groups, and I've gotten a lot of private messages from people with real estate questions."
4. Get the Word Out
Betty Bargoil, CRS, broker at RE/MAX United in Raleigh, North Carolina, uses social media and email to make showing her appreciation of her clients easier. Most of Bargoil's business comes from referrals, so she is always prompt with a thank-you and token of gratitude. She uses a CRM that gives her daily reminders of whom she should reach out to.
"I don't always do phone calls," says Bargoil. "I adapt to what the client likes, such as texts or emails. Or sometimes if I'm doing something in the area, I'll stop by and drop something off in person. Especially for people who are always sending me business, I try to treat them well and keep in touch."
One way Bargoil stays in touch with all of her clients is through a yearly picnic event. She hosts a barbeque with a band, and games for clients and their families. Having more avenues to interact with clients, whether that's Facebook, texting or something else, makes inviting people to her event that much easier.
5. Paint the right picture
Nichols has seen agents in her region use virtual reality technology to give virtual tours to clients; however, well-shot pictures and video still reign supreme.
"A pretty picture and video with good staging make a big difference," she says. "And in my high-end market, it's critical. Having in your arsenal the ability to do video, drone shots and Matterport [3D virtual tours] adds texture and depth to your perceived value."
Because many clients in the Aspen area are looking for secondary homes, whether for vacation or rental, having great photos and video easily accessible to clients is necessary. She also recommends using professional photographers, again, a given in her market. "Sometimes I'll see photos where clearly the broker is taking the picture and it looks like 10 teenagers just made breakfast, took showers and left," says Nichols. "You shouldn't even bother at that point, because it's not helping your story."
6. Be quick when it matters
One controversial topic that is becoming more important for real estate agents is how available agents should be to respond to messages from clients and potential clients. Dunlop tells her clients to text or email her any time between 8 a.m. and 10:30 p.m., and she'll respond within an hour—even if it's just to say she needs more time to fully answer their questions. However, she occasionally uses an autoreply message when she's doing something that requires her full attention.
Hammond explains how important quick responses are, especially for his tech-savvy clientele in Austin. "Response times are key for those who want to be successful," he says. "That's the first feeling the client is getting from you. And very competitive tech players are making an impact by promising things like self-showings where you don't need an agent and can open a door with an app on your phone. I think we need to be moving at the pace our clients move, and maybe even a little faster."
For example, Hammond will sometimes do quick showings, with as little as one hour notice, and he uses his CRM, which connects to an app on his phone, to follow up on leads right away. With preset templates, it only takes a few clicks for him to personalize the response and send it to the client. If you can, he recommends this method over automating responses, because the automated responses sometimes come so quickly it feels robotic.
And while not all agents are happy about increasing expectations around their availability, as a long-time agent, Lucy Nichols, CRS, broker at Aspen Snowmass Sotheby's International Realty in Aspen, Colorado, has been able to balance these expectations with living her life.
"Once I have a relationship established with a client, I use the term 'going offline,' saying I'll be offline after 8 p.m., for example," says Nichols. "You can still set boundaries so that you can sleep, breathe and take care of yourself. I've found that most people respect that, and the ones that push back might not be a good match in the first place."
Meet your Designation Requirements today! Read this article, take a 10-question quiz and earn 2 credits. Go to CRS.com/trs-quiz to get started.