Commute time is important to buyers when they're deciding on the location of a home. According to a survey of more than 600 Realtor.com users, 85% of buyers would compromise on other home features—including lot size, square footage and home style—to shorten their commute to work. And 40% say they want to reduce their commute time by up to 45 minutes.
In response, Realtor.com has introduced a Commute Time Filter that provides users with a comprehensive view of their drive time. The tool enables buyers to filter their home search results according to rush-hour and off-peak commute times.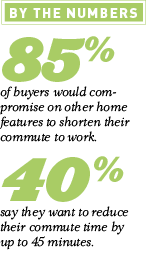 "Our commute time filter is different from others in the marketplace because it gives buyers the ability to toggle between rush-hour and off-peak commute times," says Chung Meng Cheong, chief procurement officer for Realtor.com. "With a more holistic view of their drive to and from work, people are able to make more informed decisions about where to live and, hopefully, reduce some unnecessary stress from their daily lives."
Home shoppers can enter basic search information, such as the number of bedrooms and bathrooms as well as the location desired. Similar to how homebuyers adjust search results by specifying the number of bedrooms and bathrooms in their search, users can select various commute times ranging from 10 to 60 minutes or more. Users can filter the home listings to match their preferred commute time. All of the available homes that match the search parameters and commuting distance are displayed.
According to Realtor.com, the filter helps answer the question, "Just how long will I be sitting in traffic?" It provides a tool to help simplify a homebuyer's decision-making process.