Using staging to enhance a home's visual appeal
By Myrna Traylor
It is a given that listing agents ask sellers to tidy up their homes to make them more attractive to potential buyers. In cases where the home is clutter-free and has salable décor, getting the property ready to market is a breeze. There are times, though, when agents have to dig a little deeper and rely on staging to make homes look their best.
According to the NAR's 2019 Profile of Home Staging, more than 80% of REALTORS® say that staged houses help buyers see them as homes. "With the current market, staging has become the best way to set a listing apart and get it under contract faster than the average days on the market," says Erin Daum, CRS, with RE/MAX Palm, in Port Charlotte, Florida. "This is a service I provide to sellers when needed, and it has made a huge impact on my business."
By the Numbers
The percentage of survey respondents who said that for buyers, the living room is the most important room for staging: 47%
The percentage who said the most important room for staging is the master bedroom: 42%
The percentage who said the most important room for staging is the kitchen: 35%
Source: 2019 NAR Profile of Home Staging
There are a variety of ways that REALTORS® approach staging. Some agents like to roll up their sleeves and do the staging themselves. "My partner and I stage our own homes with furnishings and items we have purchased," says Kelly Cahill, CRS. She and Tracey Miller, CRS candidate, of the Cahill & Miller Group with the Allen Tate Company in Fort Mill, South Carolina, take on staging duties with selected properties. "We just started using our own pieces this January, but we have used a professional stager for consultations for the last six or seven years."
Like anything in real estate, one has to consider the needs of the buyer market as well as the seller's capacity to make updates. Lisa Curran Parenteau, CRS, broker associate with Lisa Sells Cape Cod at Leading Edge Real Estate in Mashpee, Massachusetts, says that buyers in her area have certain expectations. "I live in a resort and vacation market, so buyers are typically looking for a home that has a Cape Cod look, feel and vibe," she says. "We actually use what we call 'styling' on every listing. I have an amazingly talented listing coordinator on my team, and she continues to grow her inventory of 'beachy' decorating items. We know that this differentiates us from many other real estate agents in our market. And it surely differentiates the appearance of the professional photos of our listings and therefore the quality of the service we can provide to our clients."
Betty Bell Gauze, CRS, of Team Gauze with The Coldwell Banker Real Estate Group in Champaign, Illinois, also prefers to handle the staging. "We have our own staging props and have never done virtual," she says, but she selects which homes need design help. "We do touches in many vacant houses. We have done table settings with chairs and area rugs, but have never needed to haul in big pieces. We choose to accent rooms within a home with differing colors and themes, perhaps catching the eye—and the heart—of a buyer who loves water colors or another buyer who prefers earthy touches or even a cultural flair piece. Buyers inquire if the duckling-themed kids' bath décor or the stone-look master décor can be included in the purchase! A seller years ago said her home was 'all adult space.' We brought in a few kid-oriented items to appeal to the child in all of us, including books, toys, a child-sized rocker, Clifford the Big Red Dog or a lovable stuffed Dachshund!"
Calling in the pros
Listing agents might prefer to enlist professional design help rather than take that work on themselves. In some cases, the REALTOR® takes on the cost as part of their listing agreement, while others say they present design service options to the seller, who decides whether they want to pay for staging.
Just a Tweak
While ordering full-blown virtual staging of rooms or outdoor areas might be the right way to market a vacant property, using digital photo retouching services does not have to be all or nothing. Some of the same firms that cleverly place virtual sofas and tables may offer other options for homes, even those with sellers in place. Digital retouching can enhance a façade with deep shadows or delete clutter in an otherwise good photo. This could be a quick and inexpensive way to boost an aging listing.
"We do staging on 10% of our listings, and not on homes under $750,000 in this market," says Brian Ladd, CRS, principal broker at Cascade Sotheby's International Realty in Bend, Oregon. In contrast, Anna May, CRS, broker/owner with Realty World Neighbors in Hayward, California, says they use staging for about 80% of their listings. "This includes our listings that are still occupied by the sellers. For them, we hire a staging consultant to meet with the sellers for a couple of hours and advise them on what to remove and what needs to be moved where."
For those homes that need full staging, May shoots a video walkthrough and sends it to several stagers to get competitive bids. Since the sellers will be paying for the staging, they can make an informed choice regarding cost.
Ladd agrees that staging should be a seller expense and only pays for staging himself in model homes, since one expenditure covers multiple sales. "I think agents need to remember their value proposition and what's in our scope," he says. "It's up to the seller to bring a property up to a marketable state. Other agents in our area offer staging as part of their listing service, but I think it would be better to be out there marketing instead of moving couches around."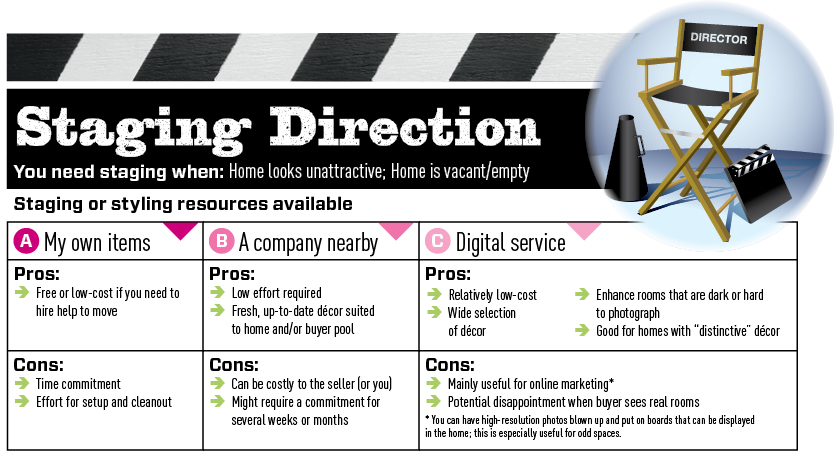 Other REALTORS® face different decision points, of course. Cahill and Miller say that they pay the fee for a seller's staging consultation as part of their listing agreement, then the sellers can contract with the stager directly.
"Lately, though, sellers have been unwilling to pay, so we have brought in our own items," Cahill says. "We get our homes under contract much more quickly now."
Because cost is always a concern, how do agents decide between physical staging and virtual staging? "Usually it is a seller decision," says Bruce Ailion, CRS, and attorney for RE/MAX Town and Country in Alpharetta, Georgia. "After a period of time on the market, the decision may be to stage the home to get better activity. Physical staging can cost $1,000 to $3,500 per month, with a minimum commitment. Virtual staging is $150 to $450 and it is a one-time commitment."
By the Numbers
The percentage of sellers' agents who personally offered to stage the home: 26%
The percentage of sellers who paid the cost of staging a home before the home was listed: 18%
The percentage of sellers' agents who offered a home staging service to sellers: 17%
The median dollar value spent on home staging: $400
Source: 2019 NAR Profile of Home Staging
Ailion estimates that he covers the cost of virtual staging for roughly 70% of the vacant homes he lists.
Worth the work
Going through the time and effort of staging rooms in a home is reasonable when you create an emotionally resonant marketing message. Daum says that buyer feedback on staged homes frequently includes keywords like "warm, cozy and inviting."
Ailion uses BoxBrownie.com to enhance home photos and virtually stage his listings. "On a $280,000 property, I was considering a $270,000 offer," he recalls, when he sent photos to a virtual stager, then posted the images he got back. "Within several days, I had numerous showings and an offer at $284,000. A $200 investment netted $14,000 in the sales price. Needless to say, I use BoxBrownie a lot now."
Jeanine Soderlund, CRS, of RE/MAX Home Towne Realty in Wyckoff, New Jersey, is definitely pro-staging.
"I had one client who saw that I sold a home very quickly across the street, so he called me," Soderlund says. After discovering that Soderlund's staging was responsible for the fast sale, he asked her to work the same magic on his home. "I asked him why he was moving and he said the home was getting too small. So I said, 'Well, then, we have to make it look bigger.' He had a huge sectional in the living room. I cut it down to one piece. The first day on market we had multiple offers and it sold for more than the asking price." No matter which staging option is used for a given property, the goal is clear. As Soderlund says, "I try to explain to my homeowners that with a little effort we can transform their home into a home a current buyer will want."
Meet your Designation Maintenance today! Read this article and Pack a Digital Punch, take a 10-question quiz and earn 2 credits. Go to CRS.com/trs-quiz to get started.