Understanding what homebuyers do not want is as important as knowing what they do want.
by Donna Shryer
Know Your Numbers
For cosmetic enhancements that can dilute potentially negative first impressions and ultimately speed up a home's sale, REALTORS® need to know the average costs for things like painting, professional cleaning, refinishing wood floors, etc. Sellers will ask.
If, however, you're not sure about current price ranges, try Homewyse, a vendor-neutral, comprehensive online reference for home repair, rehab and update projects. For example, click "Maintenance" in the menu bar, click "Carpet and Floor Care," and click "Cost to Clean Carpet." Now enter square feet to be cleaned, grade of desired cleaning products, labor type (from DIY to franchise cleaning company), effort (from light to sanitizing) and finally your ZIP code. The result is a service price range for your specific market.
Identifying trends that sell homes faster is relatively easy. Magazines, websites and interior design showrooms offer small-to-tall details in full color. Homebuyer turnoffs are more complicated. Some undesirable attributes perennially cross geographic boundaries, some are yesterday's "maybe' but today's "no way," and other sale blockers are market-specific. From a REALTOR®'s perspective, the best way to make sense of it all is to know your market, understand what can and cannot be cost-effectively remedied and recognize when it's time to reflect turnoffs in a home's price—with the final option hinging on serious scrutiny of comparables.
Unanimous Disapproval
Foul odors, flat out filth, serious clutter, extreme personal decorating choices and shabbiness, both inside and out, can be a sale's "kiss of death" regardless of location, says Rose Steepleton, CRS, real estate agent with Noles-Frye Realty, Inc. in Alexandria, Louisiana. When sellers ask Steepleton whether it's worth the investment to tackle these turnoffs, she has a ready reply. "I explain that they will rarely get dollar-for-dollar back, but certain fixes definitely help sell a home more quickly." The fixes most likely to hasten a sale are among the least expensive. "These are cosmetic enhancements rather than structural or floor plan overhauls," says Stacy Zigman, CRS, broker associate with RE/MAX Central Properties in the Long Island region of New York. Here are a few quick, economical, yet highly effective fixes:
A fresh coat of paint inside and out remedies shabbiness and extreme personal design choices, such as plum-colored walls or distinct wallpaper.
Uncluttering creates a more spacious appearance.
A professional floor-to-ceiling deep cleaning rids the home of filth and pet or tobacco odors.
New hardware on kitchen cabinets and swapping out a laminate countertop with granite freshens up a high-functioning yet older kitchen.
New light fixtures brighten up rooms and often make them feel larger.
On the topic of outdated kitchens and bathrooms, Jim Wilcox, CRS, principle broker at Columbia River Properties in The Dalles, Oregon, advises sellers to leave things as is. "You redo a bathroom or kitchen and it may be gorgeous, but it's your taste, not the buyer's taste. In that case, you have a slim chance of getting your money back."
 
What Wilcox does suggest is giving outdated rooms a neutral-colored coat of paint. "In my experience, sellers who invest $1,000 for painting get a return of around $1,500 plus a quicker sale. On the other hand, sellers who put $20,000 into a kitchen often lose money," he adds. Poor curb appeal is also one of the least expensive fixes before listing, emphasizes Colleen Meyler, CRS, broker associate with ERA Central Realty Group in New Jersey. "I'm talking about a fresh coat of paint, at least on the front door, cutting back overgrown landscaping, mowing the lawn and hauling off dead plants and debris. The goal is a pleasant, tidy first impression," Meyler adds.
Sales Trend Upward
Whether a home's turnoff is fixable or not, there is a bright spot. Due to more millennials entering their prime homebuying years, rising household formation and continued job gains boosting overall demand, the National Association of REALTORS® forecasts 2017 sales of existing homes to finish at around 5.46 million—a 2 percent stronger finish than 2016. This trend is expected to continue with a more prominent jump of 4 percent in 2018 to 5.68 million. Further brightening the news, Trulia's latest figures show the number of starter homes for sale has dropped by 10.7 percent. With more people looking to buy but fewer options to consider, Meyler suspects that this combo may reduce a turnoffs' power to block a sale. "Sure, everyone would like to turn the key and move in, but let's be realistic. With low inventory, buyers need more than ever to keep an open mind and see the home's potential," Meyler says. "Helping buyers do this is part of my job. From the minute we start walking up to a home's front door, we're already talking about what they can do. The discussion continues inside the home. Once I help a buyer see how a home can—in time—hit their every mark, we're that much closer to a sale."
Increasing Concerns
In addition to issues that perennially make every REALTOR®'s list of top homebuyer turnoffs, a few new undesirable home features have recently joined the no-go list.
Wall-to-Wall Carpeting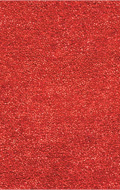 Wall-to-wall carpeting has gone from "we can live with it for a while" to "let's keep looking!" Across generations, today's homebuyers want hardwood floors. To minimize "rug burn," sellers should at least professionally clean the carpeting to remove stains and pet odors. However, if carpeting covers hardwood floors, Steepleton has advised sellers to remove the carpet and refinish the wood. For seriously motivated sellers, Steepleton has suggested that hardwood flooring at least be installed in the main living area.
Popcorn Acoustic Ceilings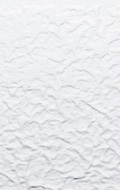 Popcorn acoustic ceilings—popular in the '60s—are today a dreaded deal breaker. "I've had buyers see a popcorn ceiling and walk right out," Steepleton says. "It really ages the home, and everyone knows how labor-intensive, messy and costly it is to remove these ceilings." To homeowners facing this prickly problem, Steepleton recommends replacing the popcorn ceiling if they want top dollar. "When I can't convince them to do that, I suggest offering home shoppers an allowance to have the work done. Even with an allowance, though, a lot of buyers just don't want to deal with it."
Wallpaper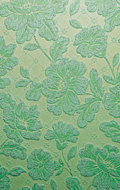 Wallpaper is an interesting trend in that it's loved and loathed at once. "It's definitely returning big time. However, it's a very personal choice and I never recommend hanging wallpaper to freshen up a home for sale," Meyler says. "In fact, if a seller has wallpaper, I recommend getting rid of it. I once had an appraiser take $10,000 off a home's value because the entire first level, up the stairs and part of the second level were covered with wallpaper." So while wallpaper, from traditional to contemporary geometric patterns, continues to gain attention, it's apparently not something homebuyers care to inherit. Even if they're planning to hang wallpaper, home shoppers see existing wallpaper as one more expensive fix.
A Closed-Off Floor Plan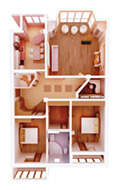 Having many small rooms is not desired. Conversely, an open floor plan, with the kitchen, dining room and family room flowing into one open space, remains a highly desired home feature. To dilute this distraction, Zigman gets creative. "If the rooms are generally smaller, I remove, relocate or rearrange furniture, so rooms appear more spacious. If there's no true formal dining room but there's an extra bedroom, I might turn that bedroom into a dining room. It helps buyers see a home's potential and flexibility," Zigman says. In addition, Zigman will ask the seller if they've ever considered making structural modifications to give their home a more open look. "Often sellers have looked into removing interior walls or expanding rooms at one time or another, but opted not to follow through with the projects. Knowing, for instance, which walls are load-bearing and which ones are non-structural can be useful information for potential homebuyers."
Vertical Houses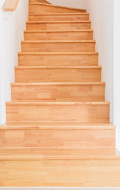 Vertical houses, referring to multiple-story homes with one or two rooms per level and built on small lots, caught the attention of homebuyers and architects alike in the '90s, but today these dwellings are losing their appeal—except for diehard city dwellers where the only option is to go up. In a study conducted by the National Association of Home Builders, which tracks the evolution of homebuyer preferences, high-density communities comprising vertical homes or multifamily/attached buildings make the top 10 most-unwanted list for millennials, Gen Xers and baby boomers. Wilcox reports that the trend did hit his smaller community, but is now a tough sell. "People don't expect to live on a postage stamp lot and go through three layers to get from their garage to the bathroom. In my market, if this is what you want, then you probably also want to move to Portland—a much larger city." While Wilcox admits there's no fix for this trend's downward spin, he does feel it's important to help sellers understand that they're likely looking at a lower asking price than they hoped for.
Find shareable tips for your clients at CRS.com.