Savvy real estate agents can help sellers set realistic expectations about listing their homes
By Regina Ludes
Many sellers begin their home sale process by checking online valuation sites to determine what their home might be worth.
"I think we assume that sellers know more than they do," says Rich Sands, CRS, president of Rich Sands Seminars in Centennial, Colorado, who teaches Listing Strategies for the Residential Specialist and will present Creating Listing Abundance, a one-day pre-conference course at Sell-a-bration in February. (See sidebar for details.)
Learn How to Create Listing Abundance
Attending Sell-a-bration 2020? Come early for the pre-conference course Creating Listing Abundance on Feb. 13 to get a nuts-and-bolts overview of the listing process and ramp up your listing success. The one-day course is appropriate for agents of all levels of experience. Participants earn eight hours of credit toward the CRS Designation.
"It doesn't matter what the market is doing. As long as you are taking listings, you can enjoy an abundant life," says Rich Sands, CRS, of Rich Sands Seminars, who will be presenting the course.
Agents who attend will learn how to do the following:
Develop a stronger listing mindset focused on market knowledge, self-awareness and client service
Access traditional and modern/digital sources of listings to grow your business
Create and deliver compelling, customized listing presentations that focus on your clients' needs
Provide seller guidance and counseling on how to leverage market analysis data and the importance of proper positioning
Effectively manage seller concerns, expectations, resistance and objections
For more information and to register, visit Sell-a-bration 2020.
Agents have one thing that valuation sites do not have, Sands says: "Nuance. They've been inside the house and around the neighborhood, so they have a clearer picture of the local market. Sellers might form their own opinion, but agents still need to educate them about issues that contribute to a home's value, such as absorption rate, supply and demand, and condition. In the end, every agent's goal should be to deliver a knowledgeable, focused, customized listing presentation every single time."
According to the National Association of REALTORS® 2018 Profile of Home Buyers and Sellers, 20% of sellers hire an agent to help them price their home competitively, and 19% need an agent's help to sell the home in a specific time frame. Many sellers approach the listing process armed with certain expectations, often based on inaccurate data gleaned from media stories and valuation websites like Redfin and Zillow. Add a deep emotional connection to their home and it's easy to see how some sellers find it difficult to face reality about their home's value. Savvy agents can counter these scenarios by using their own data-rich research to educate sellers about the local housing market and help them sell their home with realistic and satisfying results.
Jeff Dowler, CRS, with Solutions Real Estate in Carlsbad, California, believes doing thorough research is key to countering the flawed information sellers find online. "Check out the online valuation sites because you know the seller is doing that, too. But you have access to local market data that they don't have, and you know what is selling and what conditions will affect their list price, such as recent improvements and neighborhood amenities." For example, a fountain or koi pond in the backyard won't add much value to the home, while a remodeled kitchen or adding a half-bath will.
Some sellers underestimate the savviness of today's buyers, Dowler adds. As buyers shop online for homes, they've developed a better understanding of a home's worth. Buyers can tell when a home is overpriced and will walk away from the deal, he says.
Stage fright
Some sellers are reluctant to make even small cosmetic changes to their home because they believe it looks show-ready just as it is. Others are hesitant to have their home staged because they either don't understand staging or think it won't make a difference. One solution is to show before and after photos of a recently sold listing that was staged, Sands says. Using visuals can be more convincing than simply telling sellers that staging is beneficial.
Linda DeVlieg, CRS, with Keller Williams Realty in Albuquerque, New Mexico, worked with a couple who was reluctant to repaint their living room, which had a large mural on one wall that their kids had drawn. Though the mural was attractive, DeVlieg knew it would be far more difficult to sell the home with it. To help the family detach from their art project, DeVlieg suggested they take a photo of the mural to retain as a keepsake.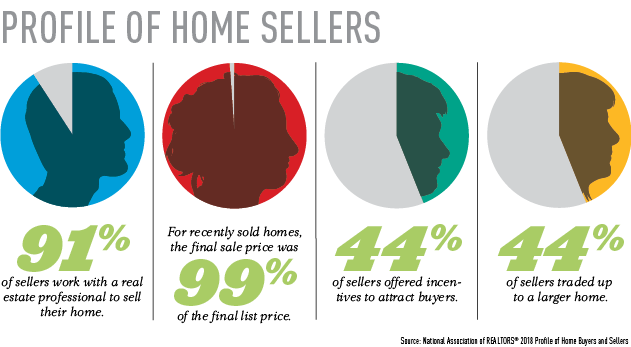 "These are people's homes. They've formed an attachment that may not be realistic," DeVlieg says. "We need to help them see their home realistically. It's no longer their home, but a product and an asset that they need to sell."
For reluctant sellers, DeVlieg sends them to view other people's homes to see how they are staged and shown. "If that doesn't work, bring them to a poorly-staged home, so they can see the difference staging makes," she says.
Redefine expectations
Some sellers enter the listing process with expectations of having one showing each day, or they want the house on the market in two days when it usually takes up to two weeks, says Brad Allen, CRS, a broker with The ART of Real Estate, in Columbia, South Carolina. To counter these issues, Allen tells sellers that he lists homes only on Fridays because it's the best day for showings and that at least one showing a week in their local market is a reasonable expectation. "One showing a week shows that I've priced the home right. When I don't mention this in the listing appointment, the seller's expectations get ramped up," Allen says. "Setting expectations low is not a bad thing. Clients are happy when showings are higher than expected."
Before the listing appointment, Allen sends clients a pre-listing packet that contains the company's philosophy, current market trends and a preview of the appointment. Within two days after the listing appointment, Allen follows up with an interactive CMA with market data and a recommended price range for their home. "These steps help slow down the process and calm the seller so they don't feel rushed into making a snap decision," Allen says.
Whether because of flawed internet research or a personal attachment to the home, it's easy for sellers to form strong opinions about their home's worth. With patience, clear communication and careful research, agents can help their clients set reasonable goals for selling their home.